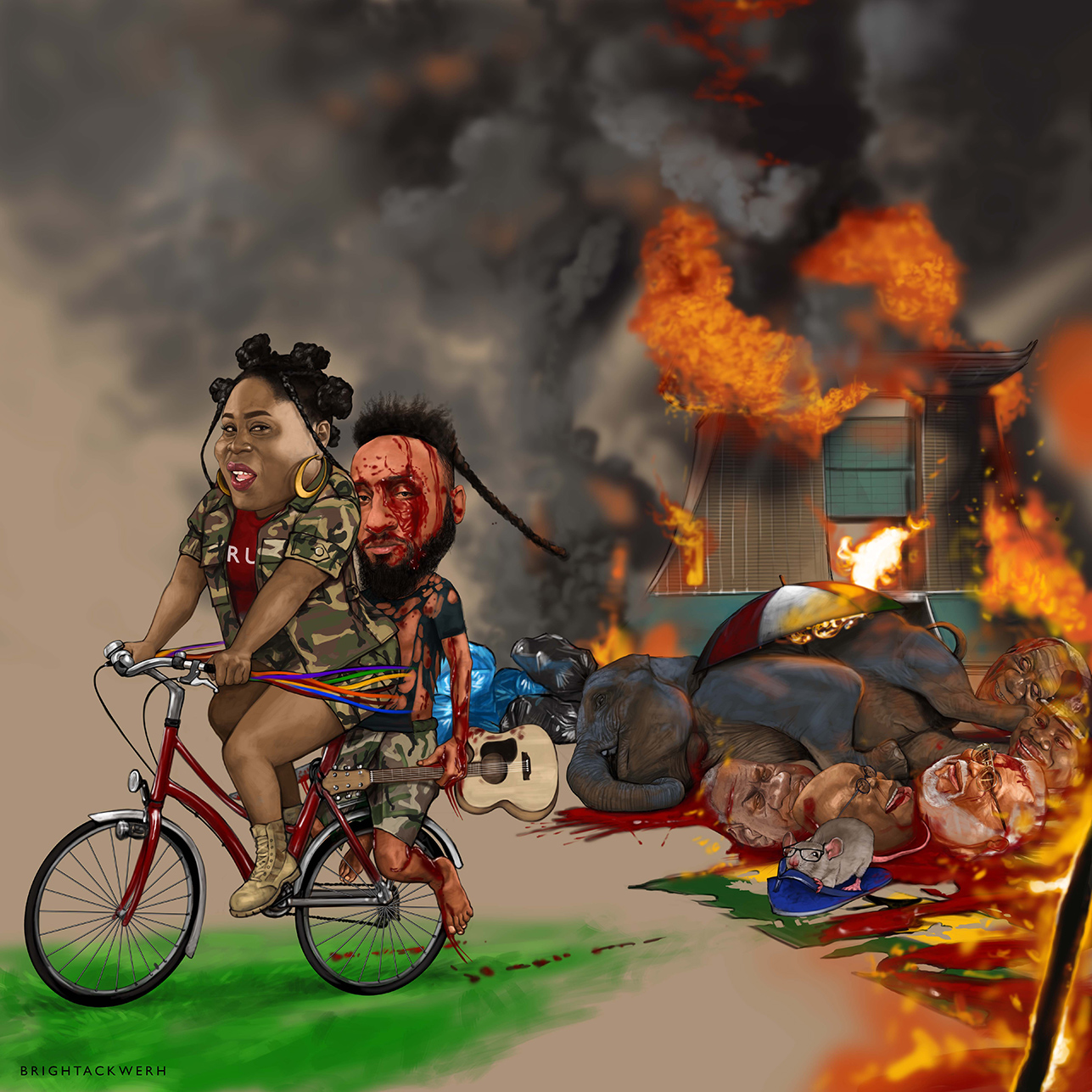 Bio
Bright Ackwerh (born 1989) is an artist from Ghana. He is the product of the art faculty at the Kwame Nkrumah University of Science and technology where he earned a BFA and MFA in painting and sculpture. His practice is situated in the fields of painting, illustration and street art.
We underestimate how much effort, experience and love goes into making the perfect Jollof – the type where the rice grains are independently swimming yet wholly grand, tasty, filling and satisfying. That's one metaphor to describe Bright Ackwerh's work – one-one Jollof, made with love and intended to satisfy a hunger or instill a craving.
Bright's work is filled with so much intention one wonders how his creative process unfolds – does it come together with a force, or is it a gradual process?
Every detail and negative space shows nuance and tells a story. This is evident in Red Card, his artwork for Wanlov's album "Red Card: The Minstrel Cycle".
The cover features the decapitated heads of four of Ghana's ex-presidents and the current president, piled up in front of a dead elephant and a smoke-stained umbrella – symbols of the two main political parties in Ghana. Right beside one president's head is the fattest rat chewing on a blue chalewote atop a burnt Ghana flag.
Ahead, a bloodied barefooted Wanlov, in a khaki that's equally been through hell and high water and holding a guitar in one hand, sits on a bike with actress, activist and all round badass – Lydia Forson pedaling the bike, with a gleeful expression that suggests she's ecstatic to play the role of being a vehicle in the revolution. In the background, the still burning and up-in-flames flagstaff house has built up a dark grand smoke in the sky. The path Lydia Forson and Wanlov are headed towards is along a patch of green land.
The artwork screams "Revolt!" which precisely matches who Wanlov is and what he stands for. The 19 track album sports enough versatility and profundity in rap, poetry, sound production, historicism, gender, consent, religion, self-assessment, perceived patriotism, politics and empathy to teach several semesters for a full decade. But most importantly it is a sharp poke to the rib, meant to unhinge our anger to think and act as a progressive people – in matters pertaining to our country, our communities and ourselves.
What's interesting to me is the pairing of these two artists; Bright Ackwerh, a socio-political artist working on the cover art for Wanlov – a conscious rebel. That's a perfect marriage. One wonders what other great pairings could materialize. Which artists ought to collaborate with Awo Tsegah's culture- responsive and accurate art? Ibrahim Mahama's architectural precision and hunger for communal growth. Lois Arde-Acquah's obsessive growth patterns. Ria Boss' velvety conscious croon. Eric Gyamfi's holistic capture of human relations. Phoebe Boswell's free-form lounging movement, Elisabeth Efua Sutherland's articulate and traceable motions. Akan's eloquent salient energy. Just to mention a few. In a functioning art eco-system, what collaborations can and should emerge?
Originally published January 11, 2020
---