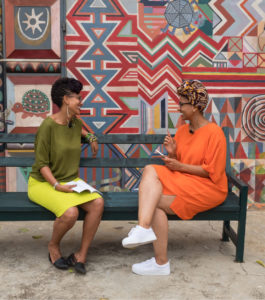 Afrolitt' is a bilingual literary platform founded by Pamela Ohene-Nyako and rooted in antiracist, feminist and ultimately afrofuturist thought & practice. In Ghana, one of Afrolitt's activities is The Afrolitt' Webseries (TAW). TAW hosts thought-provoking conversations on important social issues from select novels authored by contemporary Black writers. The conversations are centered on works of
literature previously suggested for reading by Pamela who is the creator, producer, and host of
the web series. The guests are people of African descent, from different professional and creative backgrounds, who reside and work in Ghana. Simply put, the concept of TAW is: 1 book, 1 guest, 1 location.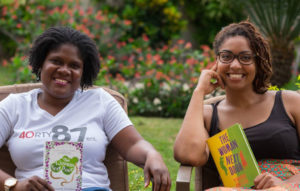 Season 1 of The Afrolitt' Webseries is titled «
Wõ Kpñ », « we meet » in Ga. It is directed
by Rwandan filmmaker and video producer
Cynthia Butare, and comprises of 5 episodes
shot in greater Accra. Other members of
the team are Ghanaian photographer Nii
Odzenma and Ghanaian-Dutch music and
video producer Alex O. Wondergem. Season 1 is fully available on Afrolitt''s YouTube channel. Currently, Afrolitt's aim is to make TAW a trilogy in three seasons, each with its own creative direction, theme, and singular content. For more information and to support the project visit www.afrolitt.com/en and follow us on social media via @afrolitt
Originally published June 20, 2018
---